The ceramics at Cannon Hall Museum range in date from the eighteenth century right up to the present day.
They were made for different reasons from commemorating events to decorating people's homes. They are beautiful works of art and many were made for everyday use. Some were produced by famous makers such as William De Morgan and Bernard Leach; others were made by important factories such as Wedgwood and Doulton. A small number were made by local factories across Leeds and South Yorkshire.
Cannon Hall Museum has a remarkable collection of art pottery made in the nineteenth and twentieth centuries. This pottery was inspired by the Arts and Crafts movement which brought together artists, designers, architects and craftspeople who focussed on the design and hand crafting of objects. Many people visit the Museum to see the significant collection of Moorcroft Pottery that covers the whole production period from 1897 until the present day. There is also an important collection of ceramics by some of the central designers and artists of the twentieth century from John Piper and Keith Murray to Clarice Cliff and Mabel Lucie Attwell. The growing collection of studio pottery includes items by Michael Cardew, Lucie Rie and Magdalene Odundo as well as the Barnsley born potter, Val Barry.
Porcelain Dish, 1820s
Rockingham Works (c.1745-1842)
This soft past porcelain dish would have been part of a larger dessert service used in a substantially sized home. The colourful and detailed decorations are typical of Rockingham designs for this kind of pottery and were popular with royalty and aristocrats around the world. The Rockingham Works was established near Swinton in South Yorkshire and received support from the Rockingham family at Wentworth.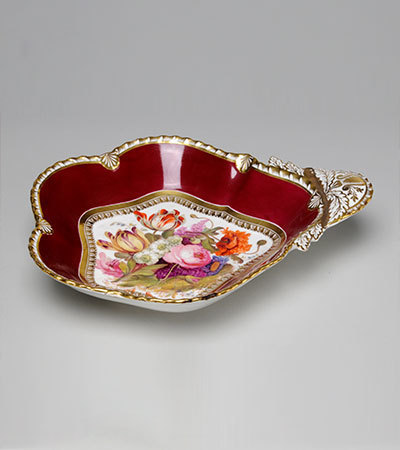 Jug, 1891
Martin Brothers
Each side of this ceramic jug is shaped with a face of a monk with a tonsured hair line. The Martin brothers were four siblings who established a pottery in Fulham, London, moving to Southall in 1877. They are well known for making quirky items which are still very popular. There are several items by them in the Museum's collection.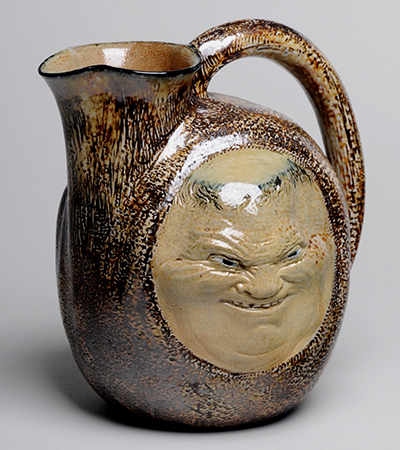 Bowl, early 21st century
Sara Moorhouse (born 1974)
Sara Moorhouse has studied colour and spacial perception for many years. The bowl act as a canvas for painting her understanding of landscapes. Her 'Storm Series' was based on studies of the Black Mountains and included her interpretations of heavy clouds against brilliant sunlight. The pieces are hand-thrown, turned and painted with ceramic colour by hand.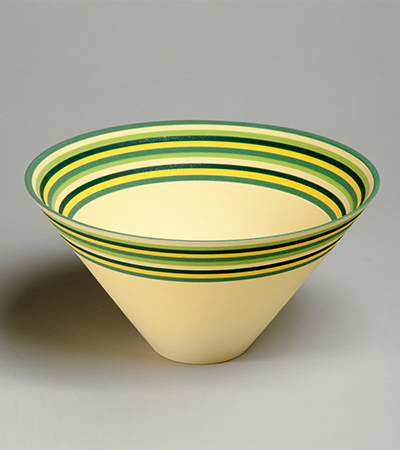 Vase, late 19th to early 20th century
Burmantofts
This gorgeous turquoise vase has a hand-moulded dragon wrapped around the neck which is decorated in shades of green and silver. Burmantofts were based in Leeds and made architectural ceramics before moving into decorative wares in the 1880s. They opened a showroom in London to reach a broader market and their ceramics were very popular.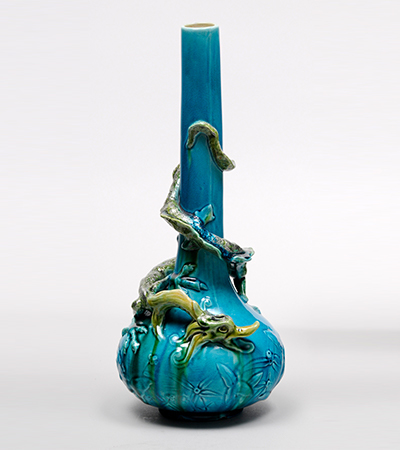 Model, 1664
Albert-Ernest Carrier-Bellheuse for Minton
The Minton factory was established in Stoke-on-Trent in 1793. Their products included porcelain tablewares, 'majolica' pieces and tiles which were popular in Victorian homes. Carrier-Belleuse was a French sculptor who produced designs for many factories including Minton and Doulton. This piece showing Theseus on horseback is made from Parianware - an unglazed white ceramic intended to imitate marble.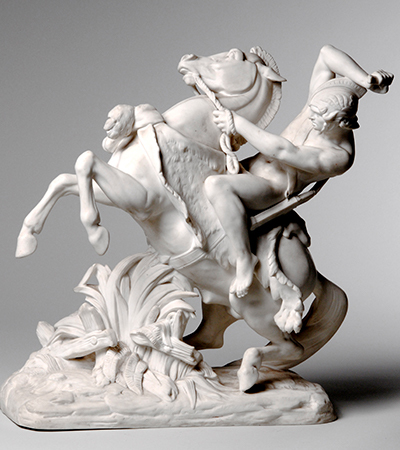 Vase, mid 20th century
Norman Wilson (1902-1985) for Wedgwood
Wedgwood was established in 1759 in Stoke on Trent, and grew into a global ceramics name. Norman Wilson was the Works Manager at the factory between about 1930 and 1960. He also created numerous ornamental designs for the company. This vase has been finished in a pale green-blue glaze with black glaze in the grooves.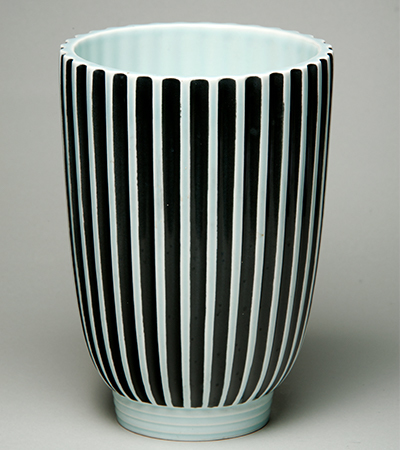 Figurine, 1930s
Royal Doulton
The glaze on this lovely penguin is known as flambé. It produces a distinctive red colour and was very popular in the 1920s and 30s. The Doulton family founded a pottery in Lambeth in the 1850s. They were influenced by the 19th century Arts and Crafts movement and encouraged individual designers, including women, to lead workshops and create their own styles.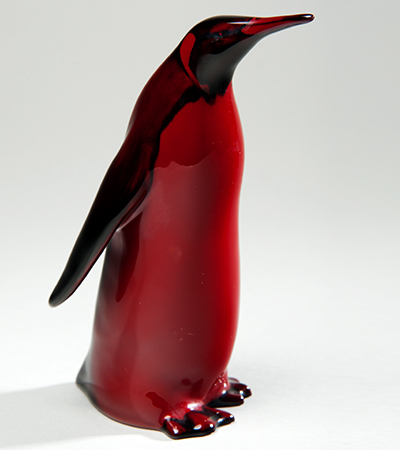 Teapot, Cup and Saucer, 1930s
Clarice Cliff for Arthur J Wilkinson
Clarice Cliff is one of the most recognised names in ceramics and her pieces are still sought after today. Born in 1899, she was apprenticed in the Potteries at a young age. She quickly progressed and was given her own studio in the 1920s. These objects are from the 'Biarritz' range, a popular design.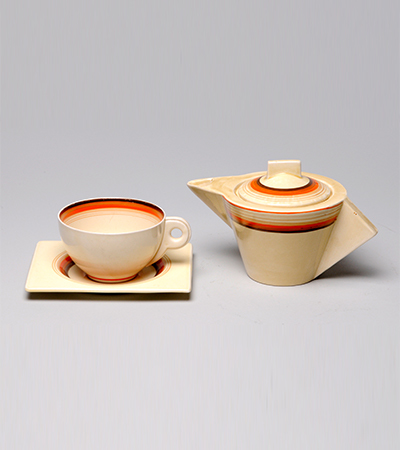 Vase, 1890s to 1900s
William Moorcroft for James Macintyre & Co
This vase is 'Florian ware', an example of the first design line by William Moorcroft after he began work at Macintyre's in 1897. In 1913 Moorcroft set up his own pottery in Burslem, which is still in production today. Cannon Hall Museum has a significant collection of Moorcroft covering the company's whole production period.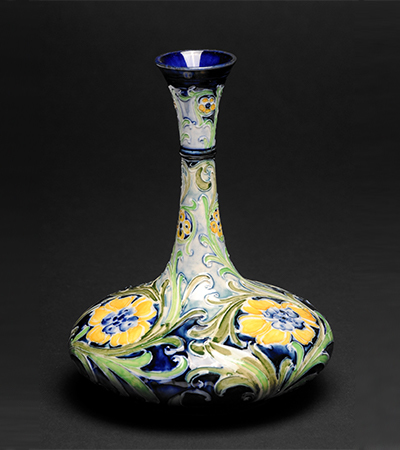 Charger, early 20th century
Charles Passenger for William De Morgan
A large ceramic charger depicting a gold galleon with animals painted on its sails and creatures in the sea. Charles Passenger was one of the artists employed by William De Morgan to paint his designs onto ceramics. De Morgan was an artist, ceramicist and writer, inspired by William Morris and the Arts and Crafts movement.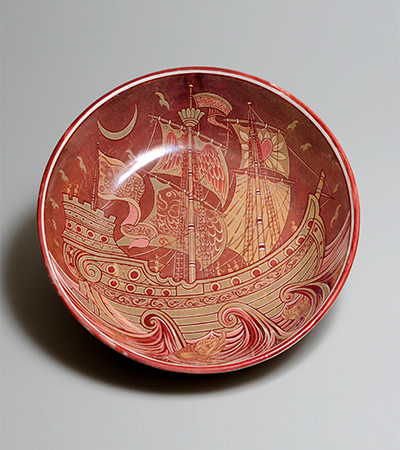 Vase, c.1978
David Roberts (born 1947)
This large vase has an asymetric neck and is decorated with green glazes which have been dripped and brushed onto the piece. Roberts is based in South Yorkshire and is a significant potter with an international reputation. He mastered the art of raku firing, a technique used in 16th century Japan to make small vessels for the Tea Ceremony.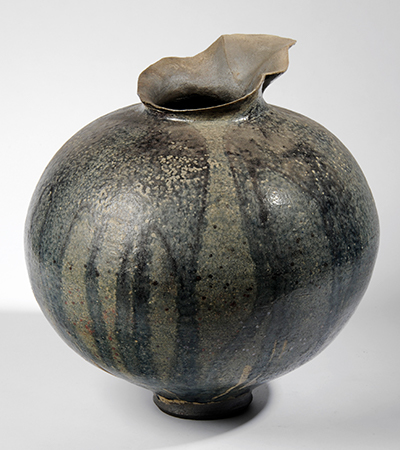 Plate, early 20th century
Walter Crane (1845-1915) for Pilkington's Tile and Pottery Co Ltd
This large ceramic plate is decorated in vibrant orange, red and brown, and features two figures as fairies. The design has been called 'Night and Morning'. Walter Crane was a very important designer in the late 19th century who also worked on textiles, wallpapers and illustrations.