The furniture collections at Cannon Hall Museum date from the 17th century to the early 20th century and there are many examples which would originally have been made for use in country houses across Britain.
The collection references some of the most famous names in cabinet-making including Waring and Gillow, George Hepplewhite and Thomas Chippendale.
Chippendale is one of the best-known names in furniture history and there are several items in the collection that may have come from his workshop. His catalogue of designs, known as, 'The Director', was published in 1760 and influenced generations of cabinet makers. Hepplewhite's name is associated with furniture in the Regency period and his elegant style is evident in a set of chairs at Cannon Hall Museum.
The Hall also houses a collection of furniture influenced by both the Arts and Crafts and the Art Nouveau styles. There are examples by designers such as E G Punnett for William Birch of High Wycombe ;and Leonard Wyburd who led the furnishing and decoration department at Liberty & Co., London.
Cabinet on Stand, 1680s
Maker Unknown
Cabinets on stands like this were very popular in the 17th century. The piece contains a series of different size drawers and compartments which would have been used for storing collections of interesting objects. These might have included gems, natural curiosities and art objects. They would normally be locked to keep the contents safe.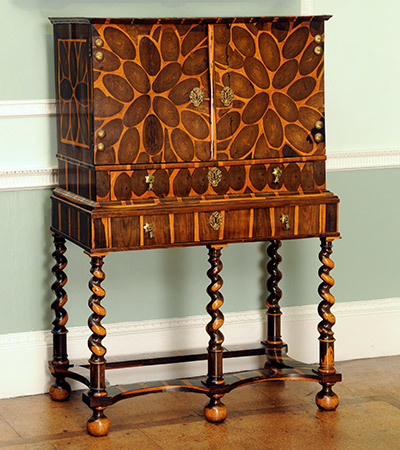 Dining Chair, 1760s
Style of Thomas Chippendale
In 1754 Thomas Chippendale, the master furnituremaker, published a book of his designs called 'The Gentleman and Cabinet Maker's Director'. The carved backs of these chairs are very close to a design on plate 12. However, many other makers also used Chippendale's designs so it is hard to be sure whether they were actually made by his firm.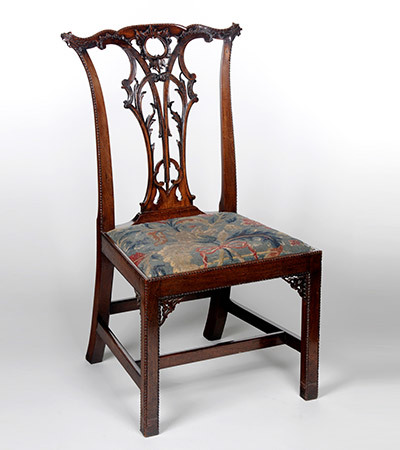 Display Cabinet, 1903
Cornelius Smith
This mahogany display cabinet is in the Art Nouveau style and has a stained-glass panel in the door. According to the bill it was made by Cornelius Smith who was based in London. He was listed in trade gazettes in the 1880s as a furniture maker.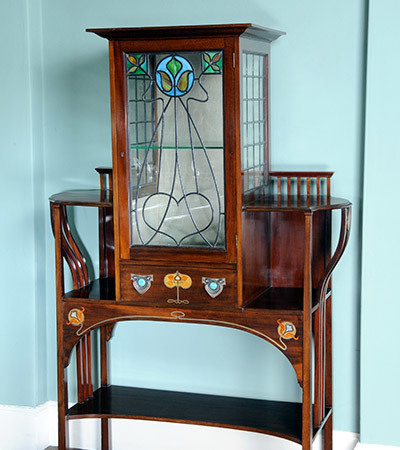 Terrestrial and Celestial Globes, 1816
J & W Cary
This pair of globes show both the earth and the stars and are known as terrestrial and celestial globes. The celestial globe has a label for J & W Cary, London and is dated 1816. The terrestrial globe initially showed the world as it was in 1816 but was changed in 1842 to show new discoveries.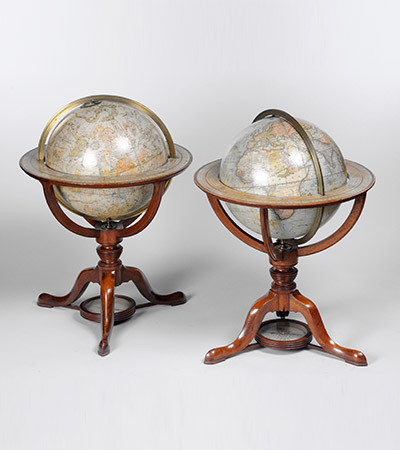 Commode, 1760s
Style of Thomas Chippendale
A commode like this would have been used in a dressing room of a grand house. The top drawer is fitted with a writing slide for writing letters. It was also used as a dressing table with a mirror and compartments for the necessary lotions and powders. It is similar to those made by Thomas Chippendale in the 1760s.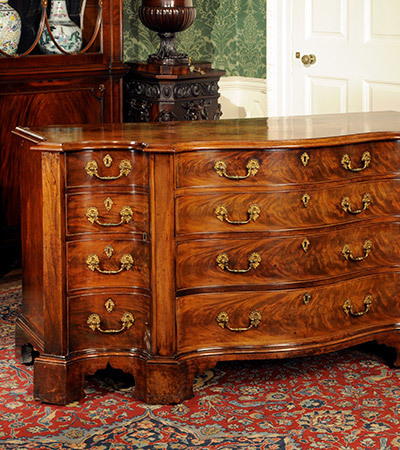 Chair, 1780s-90s
Style of George Hepplewhite
These chairs have a wheel-shaped back which is very closely associated with the work of the furniture maker, George Hepplewhite. He died in 1886 and his wife, Alice published his furniture designs between 1788 and 1790. His furniture was very elegant in style with slender legs and backs.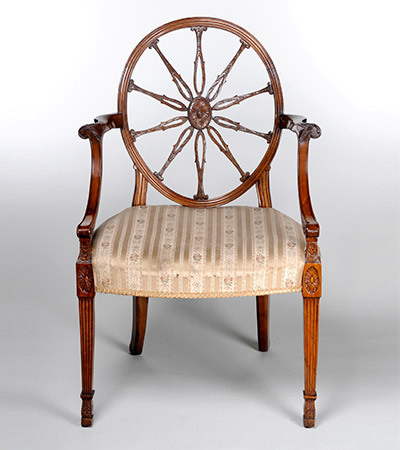 Smoker's Cabinet, 1900s
Shapland and Petter
This cabinet is fitted out to hold pipes and was intended to be used by smokers. It was made by the company Shapland and Petter based in Barnstaple, Devon. They produced Arts and Crafts furniture on a large scale. Shapland trained as a cabinetmaker in the 1850s and Petter dealt with the financial side of the business.
Spinning Wheel, 1790s
John Planta (1764-c.1825)
Small spinning wheels like this were used by ladies at home for modest textile projects. This example was made by John Planta who was born in Jamaica but settled in Fulneck, Leeds. He specialised in these elegant spinning wheels which could be customised to suit the person using it.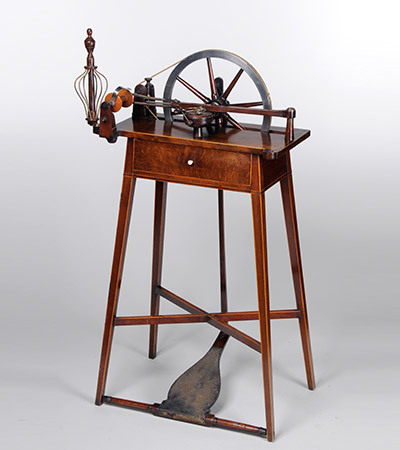 Centre Table, 1730s
Maker Unknown
This table has a 'scagliola' top which is an imitation of marble or stone. Tops like this were often bought in Italy or other European countries, and sent home where furniture-makers would produce the frame to support them. This would have been an expensive process.
Dining Table and Chairs, 1900s
Designed by E G Punnett for William Birch of High Wycombe
This drawer-leaf table can be extended to seat six people. It was designed by E G Punnett who worked for a number of different companies in the Arts and Crafts style. He designed this dining table and chairs to be made by William Birch of High Wycombe.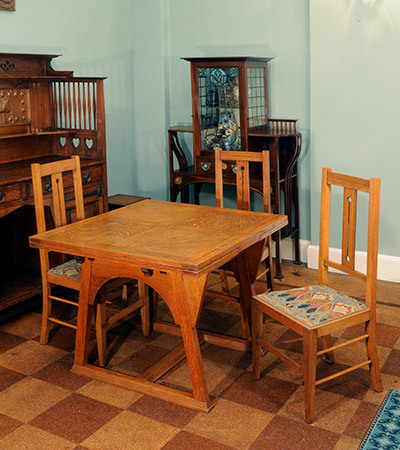 Sidetable, Pedestals and Urns, 1770s
Style of Thomas Chippendale
Suites of furniture like this would have been used in dining rooms. The table would hold a display of food. The pedestals often contained a plate warmer and a chamber pot. The urns were lined with lead and would hold water for rinsing glasses and cutlery.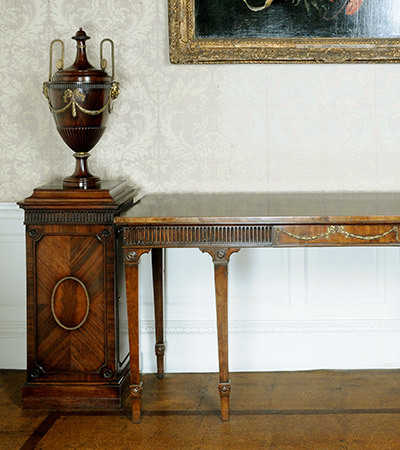 Cabinet, 1820s
Waring and Gillow
A cabinet like this would have been used for displaying china, glass and metalwork as well as housing books. It was made by Waring and Gillow who were established in Lancaster in the 1730s. They were one of the most popular furniture making companies in the Regency period.