Barnsley has long been associated with the art and industry of glass making. The glass collections at the Museum include Yorkshire and British examples as well as many more from Europe and North America.
There is an extensive collection of wine glasses and table wares from the late 17th century through to the 19th century as well as a large collection of art and studio glass. James Powell & Sons were famous makers of glass based in Whitefriars, London in the Victorian period and their work is accompanied by other famous names such as Lalique and Gallé.
Glass was heavily influenced by Scandinavian modernism in the 20th century and there are many examples of the items being produced by firms such as Orrefors and Riihimäen Lasi Oy as well as French makers such as Daum.
The close association between Barnsley and glass is being continued with commissions such as a sculptural piece from Blair Cunningham in 2009.
Vase, late 19th century
Emile Gallé (1846-1904)
Gallé was one of the most important French glassmakers of the 19th century, inspiring generations of artists. Many of his designs were inspired by nature and included flowers and insects. This vase is inspired by the Art Nouveau style which was popular in the late 19th and early 20th centuries.
'Canun' Sculpture, 2009
Blair Cunningham
This sculpture was created by the artist in response to the parkland and glass collections at Cannon Hall Museum as part of the 'Reflections' festival in 2009. Cunningham is an art historian, artist and lecturer who trained at Glasgow School of Art in the 1990s.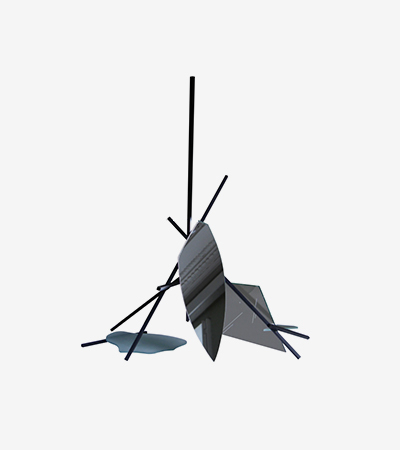 Antique Roman Balsamarium, 1st-2nd century AD
Maker Unknown
The art and science of glass making is an ancient skill and was well-known in Roman times. They used glass for storing a wide variety of liquids. A 'balsamarium' is a vessel for holding balsam or lotion and can take many different forms.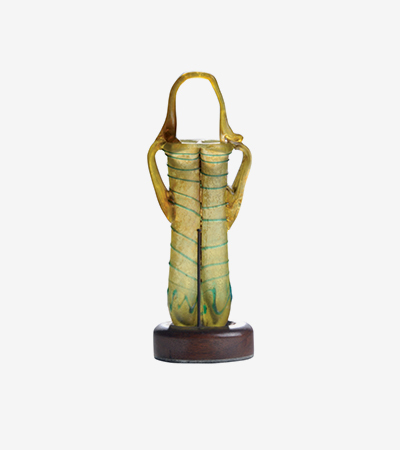 Wine Glass, 1760s
Maker Unknown
This wine glass has a very intricate spiral stem which would have taken great skill to create. The glass is hand-painted with decorative patterns. Wine glasses were very popular in the 18th century as they allowed glass makers to show a variety of techniques.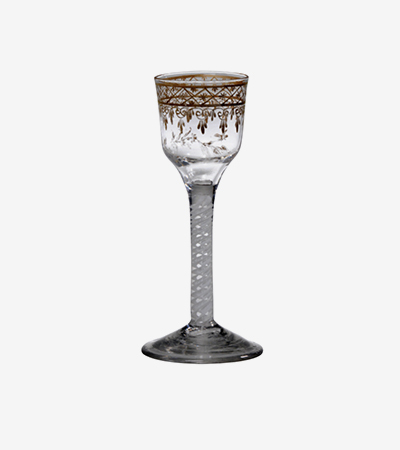 Vase, 1962
Attributed to Gunnar Cyrén for Orrefors
This vase was most likely designed by Gunnar Cyrén in the 1960s. Cyrén was a Swedish glass artist, silversmith and industrial designer. He worked for Orrefors between 1959 and 1970 and again in the late 1970s. The Orrefors glassworks was founded in 1898 near the village of the same name in southern Sweden.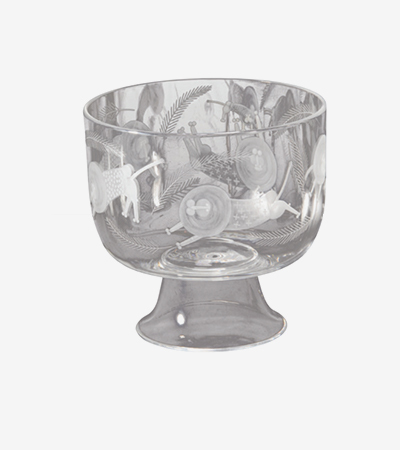 Figure of a Swan, 1912
Wood Brothers
This swan was made by Wood Brothers of Barnsley in the early 20th century. John and James Wood founded the company in 1834 to make fine tablewares in glass. They were later joined by two more brothers. The company produced domestic and industrial glass until 1981.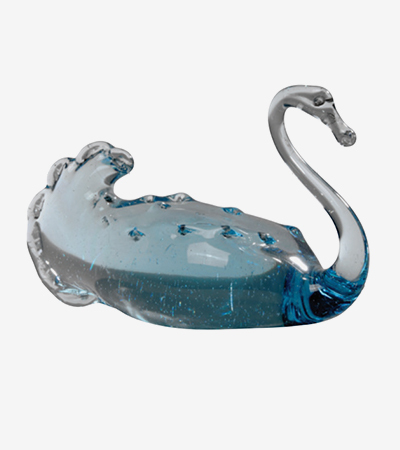 Wine Glass, mid 17th century
Maker Unknown
The bowl of this glass is decorated with swirling white lines known as 'latticino ware'. This was very popular amongst Venetian glass makers of the 17th century. It is believed this piece was by a British maker in the Venetian style. Venice has been an international centre for glass making since the medieval period.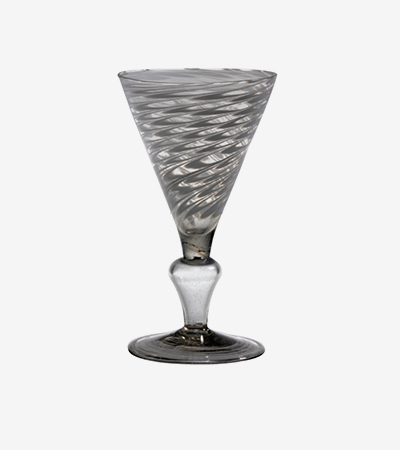 Set of Candlesticks, mid 20th century
Designed by Nanny Still for Riihimäen Lasi Oy
Nanny Still studied at the Institute of Industrial Arts in Finland before joining the Riihimäki Glassworks in 1949. She was one of a number of designers working in the modern Scandinavian style. Her work won many international design awards.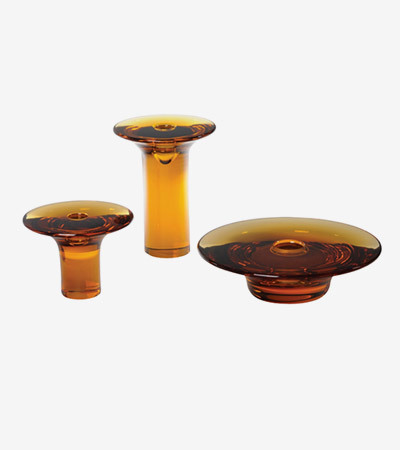 Sweetmeat Dish, 1730s
Maker Unknown
A sweetmeat dish was used for serving sweet food such as candied fruit and nuts normally as part of a large meal. In the Georgian period many dishes were placed on the table for people to help themselves and sweetmeat dishes would have been part of this extravagant display.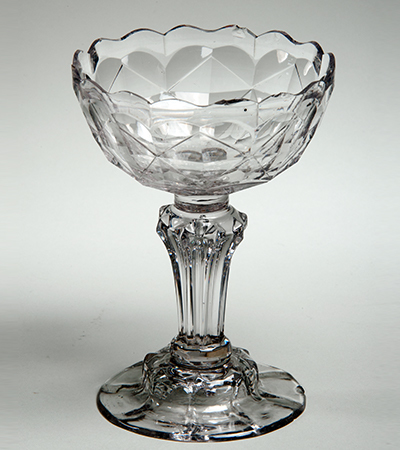 Decanter, 1884
James Powell & Sons
This decanter is in the shape of a carafe and is decorated with green glass trailing in horizontal lines. James Powell & Sons were based at Whitefriars in London and produced glass in the Victorian period. They worked with many Arts and Crafts designers and made art glass that was both attractive and functional.
'Clutha' Vase, 1900
James Couper & Sons
This 'Clutha' vase made by James Couper and Sons in Glasgow, Scotland. 'Clutha' is the Gaelic name for the River Clyde. The company worked with various designers, one of whom was Christopher Dresser. Many of the pieces were sold through Liberty from the 1880s onwards.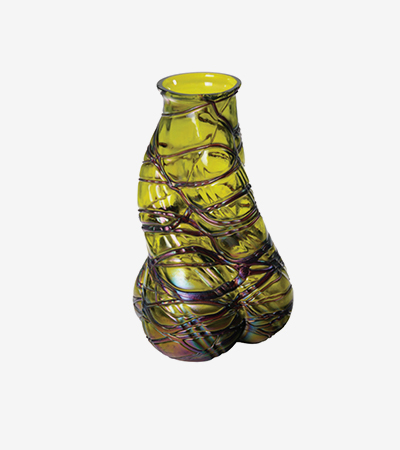 Sculpture, 'Le Coq', 1960s
Michael Daum for Daum Glassworks
The Daum Glassworks was founded by brothers Auguste and Antonin Daum near Nancy in France. They were inspired in their glass production by the work of Emile Gallé. This piece was designed by Michael Daum, who was from a later generation of the family. He was known for producing modernist forms in clear glass.