The paintings collection includes one of the finest groups of 17th century Dutch and Flemish works in the country, alongside wonderful examples of English portraits, and attractive pieces by the local Hold family. Discover masterpieces by Constable, Canaletto and Hogarth alongside Jan van Huysum and Caspar Netscher displayed in rooms throughout the Museum.
The Harvey Collection consists of 54 paintings collected by wealthy businessman William Harvey Esq. of Barnsley. Linen manufacturer and art lover, Harvey collected an array of paintings through the dealers Messrs Rutley of Leeds between 1849 and 1866, with an obvious liking for Dutch and Flemish works. Harvey made his fortune in the linen industry and was a benefactor of Barnsley town. His wealth allowed him to become a collector and he was passionate about encouraging others to actively enjoy art. On his death he left £1000 to establish a school of art in Barnsley, the forerunner of today's Barnsley College.
William Harvey's nephew bequeathed the paintings to the nation in 1917 through the National Loan Collection Trust. The Harvey Collection was the first administered by the Trust and toured the world. Due to the Barnsley connections of the Harvey family, it was agreed that the collection would be loaned to Cannon Hall Museum. In 2002 the collection was transferred on a permanent basis through Art Fund. This amazing group of oil paintings now belongs to the people of Barnsley and is looked after by Barnsley Museums.
You can see more of our paintings collection on Art UK's online resource, that has catalogued over 3200 public art collections across Britain.
'Portrait of Mary Winifred Pulleine with her son Walter', 1787
John Hoppner (1758-1810)
Oil on canvas
Mary Winifred Pulleine, (1763-1850) married Walter Spencer Stanhope of Cannon Hall. This portrait shows Mary aged about 24, with her first son Walter. It is thought that Walter suffered an injury to his spine during birth and had substantial physical and mental disabilities for the rest of his life. The portrait is in an informal style, with Mary looking lovingly at her joyful child.
Fraser Gift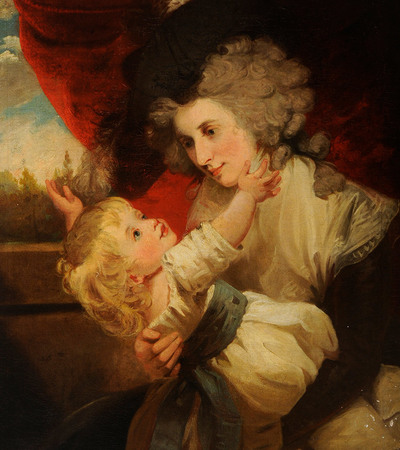 'Capriccio: Interior of a Courtyard in Venice', c.1765
Giovanni Antonio Canal, known as Canaletto (1697-1768)
Oil on canvas
Canaletto was born in Venice and became the most famous of the 'vedutisti' (painters of views) in the 18th century. This painting is a smaller version of the one Canaletto submitted when elected to the Venetian Academy in 1763. It shows his great use of detail and the strong light and shade emphasises the angles of the scene.
Harvey Collection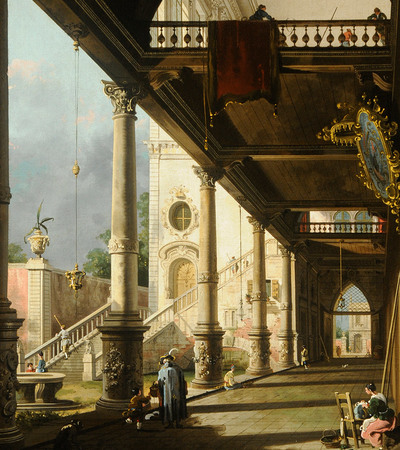 'Flowerpiece', c.1720
Jan van Huysum (1682–1749)
Oil on canvas
Flowers were commonly used as decoration in paintings until the 16th century when they also became the subject of 'flower pieces'. From Amsterdam, Van Huysum specialised in flower and fruit pieces and his works commanded high prices at home and amongst the wealthy collectors of Europe. His paintings were glamorous but also very precise in their detail, always taken from real life study.
Harvey Collection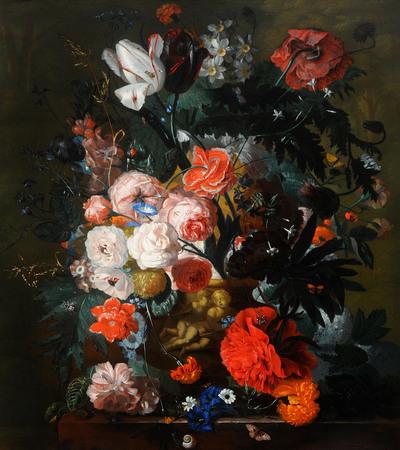 'Village Landscape at Dusk'
Aert van der Neer (1603–1677)
Oil on panel
Van der Neer was best known for his moonlight and winter scenes, but also landscapes at dawn and dusk. He spent his early years in Gorinchem, south Holland, but moved to Amsterdam where he began his painting career. Today we can appreciate the atmosphere and innovation of his work, but the lack of market for his paintings during his lifetime meant he struggled financially and died in poverty.
Harvey Collection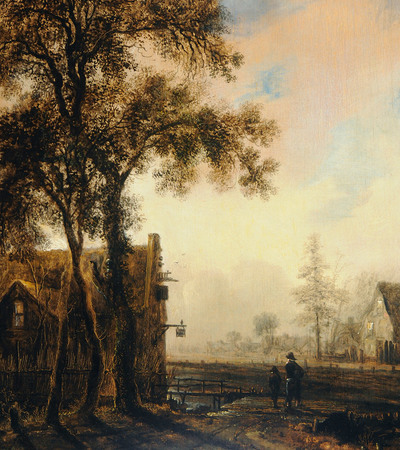 'Child Holding an Apple', 1664
Caesar van Everdingen (1616/17–1678)
Oil on canvas
Everdingen worked in Haarlem where he became part of a group known as the Haarlem Classicists. Many portraits of children were produced at the time, full of symbolism. Fruit was a popular emblem, taking the idea of pruning and nurturing trees and plants to yield the best fruit. We know the child is a boy from the sash with the 'Baptismal Medal', and also the shape of his collar and cap.
Harvey Collection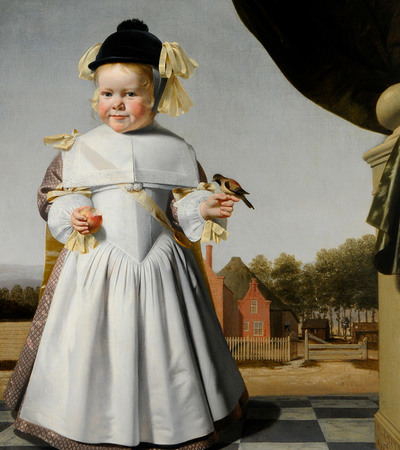 'Calm'
Hendrik Jacobsz Dubbels (1621–1707)
Oil on canvas
The painting's attribution comes from an almost identical painting by Dubbels in the Boymans-van Beuningen Museum in Rotterdam. This is a shipping scene with tranquil seas, dominated by the blue and clouds of the skies. Born and based in Amsterdam, Dubbels was renowned for his skill in portraying reflections on calm water.
Harvey Collection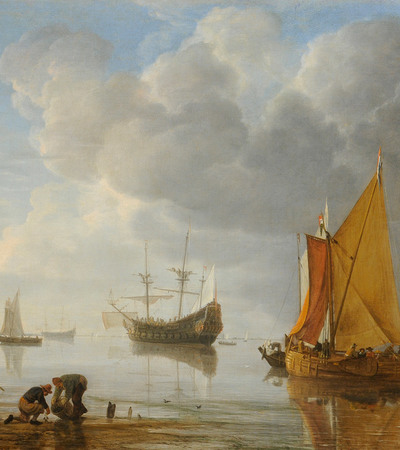 'View in Amsterdam'
Jan van der Heyden (1637–1712)
Oil on panel
From beginnings as a small medieval fishing village, Amsterdam became one of the world's most important ports in the 17th century. This view is thought to be one of the artist's imaginary 'recipes' including ingredients of different elements of Amsterdam views and architecture. The style is typical of Van der Heyden's great talent for detail. He also became involved in projects to improve street lighting and fire-fighting in Amsterdam.
Harvey Collection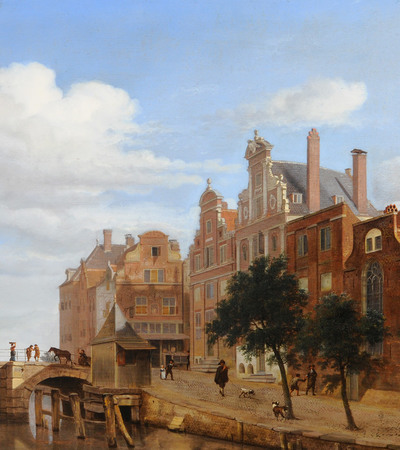 'Fruit and Lobster', 1649
Jacob Marrel (1614–1681)
Oil on canvas
Jacob Marrel was born in Frankenthal in Germany. He moved to Utrecht in the early 1630s where he came under the influence of the still-life painter Jan Davidsz de Heem. This painting is a kind known by the Dutch as 'pronkstilleven' which means 'showpiece'. The luxurious objects symbolised wealth and status as they were costly to transport or buy.
Harvey Collection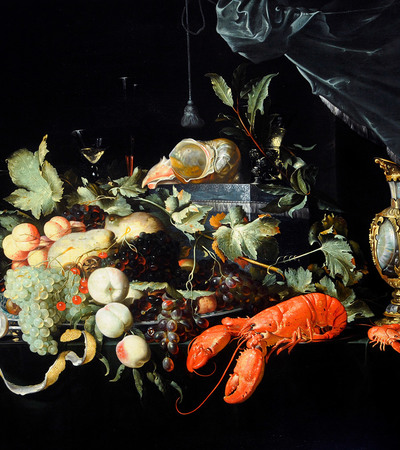 'The Weary Sportsman', c.1700
Manner of Gabriel Metsu (1629-1667)
Oil on canvas
This work is a replica of a painting by Metsu in The Wallace Collection, London. Metsu worked in Leiden and Amsterdam and specialised in scenes of middle class life. The hunter was a favourite topic and the one in this scene is worn out from a day of sport and presumably a drink or two.
Harvey Collection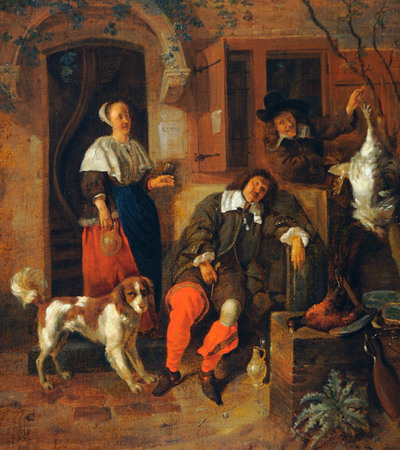 A Village Fair, 1640s
Adriaen van Ostade (1610–1685)
Oil on panel
Van Ostade created hundreds of scenes of peasant life in Holland. This painting shows a country fair, originally a religious event to commemorate the founding of a church. Over time the fairs lost their religious element and became festive events with a variety of stalls, including those selling paintings. Van Ostade was born in Haarlem, was probably trained by Frans Hal and influenced by the Flemish painter Adriaen Brouwer.
Harvey Collection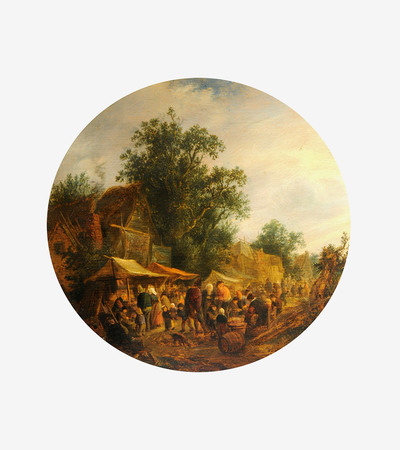 'Shipping: A Fresh Breeze'
Ludolf Backhuizen (1630–1708)
Oil on canvas
Born in Germany, Backhuizen moved to Amsterdam at around the age of 20. He was largely self-taught as an artist and by the early 1660s he was well established, with clients including Czar Peter the Great and many German princes. This seascape is a great example of Backhuizen's portrayals of storm clouds, strong winds and crashing waves, using the sharp contrast of dark and light.
Harvey Collection